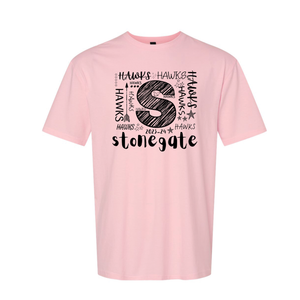 Our new Stonegate Elementary Spirit Wear featuring our captivating 'S with Hawks All Over' design—a symbol of unity and school pride. Crafted with a keen eye for quality, our clothing collection is designed to ensure you not only look your best but feel your best too. The softness and comfort are unmatched, making these pieces a must-have for showcasing your Stonegate Elementary spirit with effortless style.
Pre-Order Period: 9/29

Pre-Order Distribution:
Pre-sale orders will be sent to your school for distribution the week of October 16th.
After Pre-Order:
Please note that starting September 30th, our pre-sale will END and our spirit wear vendor, EZ-INK will process your individual order at the on demand pricing and will ship your items directly to your home. Expect 1-2 weeks for production and delivery.